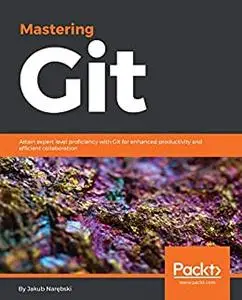 Mastering Git: Attain expert level proficiency with Git for enhanced productivity and efficient collaboration
English | 2016 | ISBN: 1783553758 | 583 Pages | PDF EPUB MOBI (True) | 12 MB
Git is one of the most popular types of Source Code Management (SCM) and Distributed Version Control System (DVCS). Despite the powerful and versatile nature of the tool enveloping strong support for nonlinear development and the ability to handle large projects efficiently, it is a complex tool and often regarded as "user-unfriendly". Getting to know the ideas and concepts behind the architecture of Git will help you make full use of its power and understand its behavior. Learning the best practices and recommended workflows should help you to avoid problems and ensure trouble-free development.