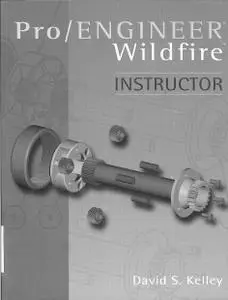 David S Kelley - Pro/ENGINEER Wildfire Instructor
672 pages | Publisher: McGraw-Hill EngineeringCS.com | Language: English | ISBN 0072865202 | Scanned to PDF | 85.4 Mb
Pro/ENGINEER Wildfire Instructor introduces the reader to the powerful CAD package called Pro/ENGINEER, based on the new Wildfire version. This text is organized around step-by-step tutorials-the most effective way to teach and learn this procedure-intensive CAD application. Pro/ENGINEER Wildfire Instructor provides a solid background in parametric design and constraint-based modeling. In addition, the comprehensive references make this text an all-in-one tutorial, reference, and lecture guide for students of Pro/ENGINEER. Thanks to the original uploader
Some hallmark features of this text include:
• The reference section of each chapter provides guidelines for performing specific Pro/ENGINEER modeling tasks independent of the tutorial environment-an excellent resource for reinforcing Pro/ENGINEER functions.
• Pro/ENGINEER is a menu-intensive application. The tutorials in this book use numbered steps to guide the selection of menu options.
• Modeling strategies are highlighted throughout the text by shaded "Modeling Point" boxes.
• Supplemental object files (part, assembly, drawing) are available for download from the book's web page (
www.mhhe.com/kelley
). Additional ancillary material is also available on the web.