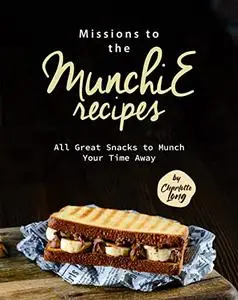 Missions to the Munchie Recipes: All Great Snacks to Munch Your Time Away by Charlotte Long
English | 2022 | ISBN: N/A | ASIN: B09XKKK18T | 78 pages | EPUB | 3.66 Mb
Whether it's midnight or in the middle of the day, we all can't survive without some snacks in between our main meals. Sometimes it is just munching away some snack or the other to kill time or out of boredom. Sometimes it's eating snacks to relieve yourself from the stress, and you just need something to chew upon while doing your daily tasks. Sometimes, it's just a craving to have some delicious snacks in the middle of the night.
No worries because this cookbook brings you the solution to all your munching habits. Making snacks is comparatively easier than making full-course meals, and it also takes less time to be made out of ingredients that are readily available in your kitchen. Ramen, crunchy mixes, Nutella recipes, cookies, brownies, pretzels, fritters, fries, and chips are some simple munchies that can be made into delicious snacks or are available readymade in the market. This cookbook brings out authentic snack recipes for munching on different occasions.
Feel Free to contact me for book requests, informations or feedbacks.
Without You And Your Support We Can't Continue
Thanks For Buying Premium From My Links For Support