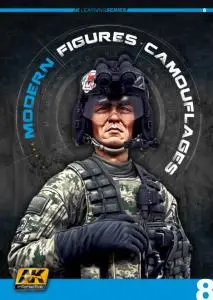 Modern Figures Camouflages (AK Learning Series 8)
AK Interactive | 2019 | English | True PDF | 98 pages | 26 MB
The extremely talented artists that have taken part in this book show you all aspects, tricks they use and secrets involved in painting modern uniforms patterns. Different types of camos on which these artists apply their different styles and techniques. Follow this essential guide in form of simple step by step processes and learn useful information that any kind of modeller, beginner or advanced, will find interesting for their projects and figures in any scale.
This book is profusely illustrated with step by step photos and descriptive text explaining in depth the secrets of painting modern uniforms. Instructional drawings or color plates are also among the different things that you will find along its pages.
This is another essential issue of our Learning Series books, which have already become a classic within the history of modeling.