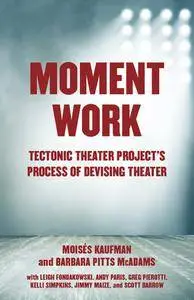 Moment Work: Tectonic Theater Project's Process of Devising Theater y Moises Kaufman, Barbara Pitts McAdams
English | April 17th, 2018 | ASIN: B07B78YCX6, ISBN: 1101971770 | 338 Pages | EPUB | 25.31 MB
A detailed guide to the collaborative method developed by the acclaimed creators of The Laramie Project and Gross Indecency–destined to become a classic. A Vintage Original.
By Moisés Kaufman and Barbara Pitts McAdams with Leigh Fondakowski, Andy Paris, Greg Pierotti, Kelli Simpkins, Jimmy Maize, and Scott Barrow. For more than two decades, the members of Tectonic Theater Project have been rigorously experimenting with the process of theatrical creation. Here they set forth a detailed manual of their devising method and a thorough chronicle of how they wrote some of their best-known works. This book is for all theater artists—actors, writers, designers, and directors—who wish to create work that embraces the unbridled potential of the stage.