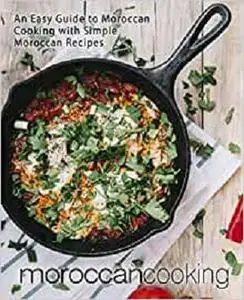 Moroccan Cooking: An Easy Guide to Moroccan Cooking with Simple Moroccan Recipes (2nd Edition) by BookSumo Press
English | January 10, 2019 | ISBN: 1793820104 | 98 pages | PDF | 5.03 Mb
An Introduction to Moroccan Food.
Come take a journey with us into the delights of easy cooking. The point of this cookbook and all our cookbooks is to exemplify the effortless nature of cooking simply.
In this book we focus on Moroccan meals.
Moroccan Cooking
is a complete set of simple but very unique Moroccan recipes. You will find that even though the recipes are simple, the tastes are quite amazing.
So will you join us in an adventure of simple cooking?
Here is a Preview of the Moroccan Recipes You Will Learn:
Stuffed Bell Pepper Caps
Herbed Potato Fritters
Saucy Seared Tuna
Balsamic Carrots
Cracked Potato Roast
Sweet and Zesty Chicken Stew
Tipsy Mango Shanks
Beef Bites with Orangy Lentils Casserole
Creamy Marinated Grilled Kabobs
Traditional Rubbed Chicken Roast
Acorn Veggies and Raisins Stew
Sweet Lemon and Chicken Stew
Cheesy Couscous Stuffed Zucchini Boats
Shish Veggies and Lamb Kebab
Chickpeas and Mussels Stew
Harissa Seared Lamb Fillets
Cinnamon Lentils Soup
Pecan Couscous Salad
Quinoa Pilaf Style
Traditional Lemon Chicken Stew
Fried Rock Fillets with Clams Stew
Saucy Raisins and Eggplant Stew
Roasted Chickpea Capers Salad
Much, much more!
Again remember these recipes are unique so be ready to try some new things. Also remember that the style of cooking used in this cookbook is effortless. So even though the recipes will be unique and great tasting, creating them will take minimal effort!
Related Searches: Moroccan cookbook, Moroccan recipes, Moroccan recipe book, Moroccan, Moroccan food, Moroccan cooking, Moroccan cuisine
Feel Free to contact me for book requests, informations or feedbacks.
Without You And Your Support We Can't Continue
Thanks For Buying Premium From My Links For Support