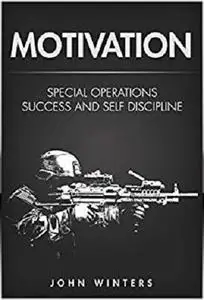 Motivation: Special Operations Success and Self Discipline by John Winters
English | September 4, 2018 | ASIN: B07H42LYC9 | 152 pages | AZW3 | 5.08 MB
Get the Special Operations Strategies For Success In Life
Self Discipline is a Major key to success. You can't have one without the other. In this book, I bring 2 of my successful books together in this special edition bundle. Both my books Self Discipline and Success are published together in this book so you can get both books as one.
My Self Discipline book will give you the Special Forces tools to live with focus and perseverance.My Green Beret Success book will give you the success mindset and strategies the Green Berets use to overcome any obstacle in their path and win.
Inside This Book You Will Learn:
Defining Discipline
Creating the Culture of Self-Discipline
Special Forces Life
Living By Your Code
Success Habits To Start Today
The Habits of Elite Warriors
How To Have Confidence in Yourself
How To Take Initiative!
How To Be More Productive
Leadership Skills
Green Beret Organization and Planning
Much Much more..