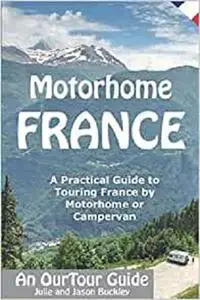 Motorhome France - An OurTour Guide: A Practical Guide to Touring France by Motorhome or Campervan by Mrs Julie Buckley
English | November 20, 2019 | ISBN: 1696592917 | 186 pages | EPUB | 11 Mb
France is one of the most motorhome-friendly countries in Europe, with a huge network of welcoming campsites, aires and private businesses who permit overnight stays. The country is incredibly convenient for UK-based travellers, just 35 minutes away from Dover via the Eurotunnel, and once you're there has a top-notch road network to carry you at whatever pace suits to whatever destination you choose.
This book aims to arm you with all the key information you need to plan and enjoy a holiday in France in your own motorhome, campervan or RV (Recreational Vehicle) or one you have hired, including:
What France has to offer: incredible landscapes, engaging culture, fascinating history, world-class events and mouth-watering gastronomy.
Why France is a particularly tempting destination for motorhome travellers.
Suggestions for when and where to travel, with a regional breakdown of many of the best places we've personally enjoyed visiting over the years.
Hands-on information for finding places to stay, from family campsites all the way through to free (wild) camping locations.
Planning information, advising how to prepare your party, your motorhome and pets for travel to France, including the potential implications of Brexit.
Suggestions for route planning, outlining speed limits, options for using and avoiding toll roads and the CRIT'Air low-emission zone scheme.
Guidance for using ferries and the Eurotunnel, from travelling to the port or train through to boarding and disembarking.
Pointers for driving in France, including dealing with the 'priorité à droite' rules, using roundabouts, safely handling mountain routes and paying for toll roads.
Living day-to-day motorhome life in France, from finding fuel and gas to obtaining Euros, using service points (bornes), coping with the language, shopping, using the internet and doing your laundry.
Staying safe and handing any issues which may arise on your holiday.
And finally returning home to the UK, safely and with life-long memories in advance of your next trip away.
Motorhome France comes to you from the authors of the ourtour.co.uk travel blog, Julie and Jason Buckley. With over a decade of campervan and motorhome travels across more than 30 European and North African countries, their guidance comes from hard-won, first-hand experience.
Feel Free to contact me for book requests, informations or feedbacks.
Without You And Your Support We Can't Continue
Thanks For Buying Premium From My Links For Support