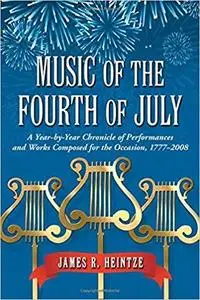 Music of the Fourth of July: A Year-by-year Chronicle of Performances and Works Composed for the Occasion, 1777-2008 by James R. Heintze
English | April 13, 2009 | ISBN: 0786439793 | 435 pages | PDF | 7.16 Mb
In this, the first comprehensive study of the music of the Fourth of July, information on notable Independence Day compositions and performances is presented chronologically from 1777 through 2008. The book demonstrates the remarkable significance of music in Fourth of July celebrations. Noteworthy topics and occasions include music at the White House; music by immigrant and ethnic groups; dedications of statues and monuments; symphonies and philharmonic orchestras; the centennial and bicentennial; world's fairs; music in prisons, circuses, and amusement parks; and many others.
Feel Free to contact me for book requests, informations or feedbacks.
Without You And Your Support We Can't Continue
Thanks For Buying Premium From My Links For Support