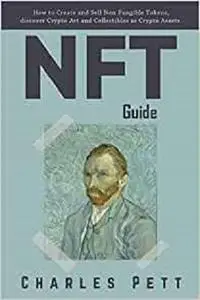 NFT Guide: How to Create and Sell Non Fungible Tokens, discover and Invest in Crypto Art and Collectibles in the Blockchain. by Charles Pett
English | April 18, 2021 | ISBN: N/A | ASIN: B092P76T66 | 99 pages | EPUB | 0.16 Mb
This Simple, Clear, and Concise NFT Book Will Teach You How You Can Create, Buy And Sell NFTs Even If You're Not A Computer Genius!
NFTs (Non-Fungible Tokens) are one of the hottest trends in the crypto industry in 2021. Since 2020, its overall sales have gone up by 55% from $250 million to $389 million. This is the best time for you to benefit from this trend by laying your hands on a NFT crypto book that will show you how you can create, buy, and sell these digital assets.
Charles Pett is a digital asset professional. He has helped many people in the United States to gain financial freedom by teaching them how to create wealth through crypto. His experience has helped hundreds of newbies to become professional traders and investors of NFTs.
NFT Guide: How To Create And Sell Non Fungible Tokens, Discover Crypto Art And Collectibles As Crypto Assets is a SIMPLE, concise, and practical NFT book that will help beginners and professionals that are interested in buying and trading NFTs understand the basics of the digital asset. NFT Guide reveals the hidden secrets that you need to know if you want to succeed in buying and trading NFTs.
Inside this NFT for dummies guide, you will learn:
✓ The AMAZING opportunities with NFTs
✓ NFT stock investment opportunities and how to get the best from them
✓ Secrets experts use to succeed in the NFT market
✓ How to create and sell NFT
✓ And lots more
This AMAZING NFT crypto book will get you started investing in NFT the professional way even if you have no idea about what cryptocurrencies are.
Ready to get started?
Feel Free to contact me for book requests, informations or feedbacks.
Without You And Your Support We Can't Continue
Thanks For Buying Premium From My Links For Support