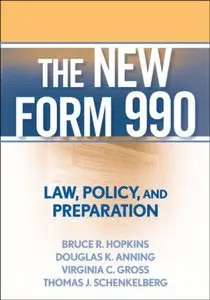 Bruce R. Hopkins, Douglas Anning, Virginia Gross, Thomas Schenkelberg, "The New Form 990: Law, Policy, and Preparation"
Wiley | 2009 | ISBN: 0470375051 | 622 pages | PDF | 12 MB
The New Form 990 Law, Policy, And Preparation
The accurate and complete preparation of Form 990—the information return that must be filed annually by most types of tax-exempt organizations—is key to maintaining tax-exempt status, public image, and fundraising capabilities. In December 2007, the IRS released the newly redesigned Form 990. The publication of this significantly expanded return has created, and is creating, many new laws . . . and confusion. Recognizing that far too many nonprofit organizations are unprepared for what is coming their way, The New Form 990 channels its stellar author team's decades of legal expertise to provide tax-exempt organizations and tax return preparers with the help they need to properly, effectively, and accurately prepare the new return.
Professionals working to prepare this new labyrinthine form are guaranteed to encounter many unexpected hurdles.Authors Hopkins, Anning, Gross, and Schenkelberg provide readers with guidance and a road map to help maneuver through the revised Form 990, including summaries of the law underlying each of the parts and questions in the return, so that tax-exempt organizations and their advisors can understand the background law whenformulating answers to the questions.
Deftly covering both pre-existing and newly created laws as well as discussions of policy and preparation, The New Form 990 brims with line-by-line analyses as well as numerous checklists of steps to take to be in the best possible position to prepare the return. Coverage includes:
Preparation of Parts I–XI and Schedules A–R
Compliance tasks
Checklist of schedules
Corporate governance
Compensation
Revenue, expenses, and balance sheets
Public charity status
Legislative activities
Reporting and disclosure requirements
Supplemental financial statements
Tax-exempt schools
Fundraising and gaming activities
Tax-exempt hospitals
Domestic grantmaking
Foreign activities
And more
The impact of Form 990 on the management, operations, and governance of most exempt organizations is massive. The New Form 990 is a beacon for organizations struggling to revamp their operations and upgrade their practices in order to complete this capacious new return.
Not all books on AvaxHome appear on the homepage.
In order not to miss many of them follow
ebooks section
(see top of each page on AH)
and visit
my blog
too :)
NO MIRRORS according to the rules