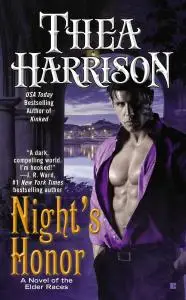 Night's Honor
by Thea Harrison
English | EPUB | 1.3 MB
A woman finds herself in need of protection and seduced by honor in this Novel of the Elder Races from New York Times bestselling author Thea Harrison.
On the run from her former employer, Tess knows that she's vulnerable on her own amongst the Elder Races. That's why she decides to audition to become the human attendant of a powerful Vampyre of the Nightkind demesne. But while her position affords her the safety she seeks, her protector turns out to be more than she bargained for.
The right-hand man of the Nightkind King, Xavier del Torro is both terrifying and alluring. While his true nature frightens Tess, she can't ignore the appeal of his innate sense of integrity and self-restraint. Thrown into Xavier's world, Tess must quickly learn to navigate the dangers—both to her life and to her heart. But the biggest threat comes from her own past…