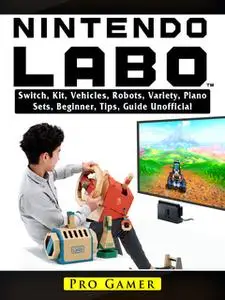 «Nintendo Labo: Switch, Kit, Vehicles, Robots, Variety, Piano, Sets, Beginner, Tips, Guide Unofficial» by Pro Gamer
English | ISBN: 9780359414147 | EPUB | 0.5 MB
*UNOFFICIAL GUIDE*
Do you want to build all of the Nintendo Labo kits?
Do you struggle with making or playing the games?
If so, we have got you covered.
We will walk you through the game, provide professional strategies and tips, as well as all the secrets for Nintendo Labo.
What You'll Discover Inside:
- Professional Tips and Strategies.
- Cheats and Hacks.
- Toy Types.
- How to Build.
- PLUS MUCH MORE!
Disclaimer:
This product is not associated, affiliated, endorsed, certified, or sponsored by the Original Copyright Owner.