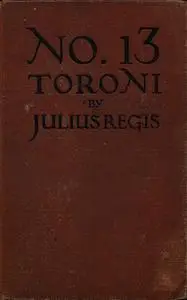 «No. 13 Toroni» by Julius Regis
English | EPUB | 0.2 MB
PART I.
THE MYSTERY OF ELAINE ROBERTSON
CHAPTER
"DO NOT LET HER ESCAPE"
THE GIRL IN GREY
"HE FRIGHTENED ME"
STEPS THAT GROW SILENT
THE OTHER DREYEL
THE TRACK OF THE "INVISIBLE" ONE DOCTOR AUGUSTUS N. CORMAN INTRODUCES HIMSELF
ONWARD TO THE UNKNOWN
PART II.
THE WOODEN DOLLS
ELAINE ROBERTSON'S STORY
RICARDO FERAIL
A "WELCOME" GIFT AT SEATTLE
WILLIAM ROBERTSON
FERAIL MAKES A PROPOSAL
ELAINE'S SECOND DISAPPEARANCE
HOTEL "GOLDEN SNAKE"
THE "ARIADNE"
PART III.
HURRICANE ISLAND
TORONI RE-ASSUMES HIS RIGHT NAME
THE STORY OF "KING SOLOMON"
WHERE THOMAS FALLS INTO THE HANDS OF THE PHILISTINES
ELAINE TELLS THE TRUTH
TEN FATHOMS FROM THE GOAL
MADAME LORRAINE'S SURPRISE
GO SHARES… THEN PART
AFTER THE CONFLICT