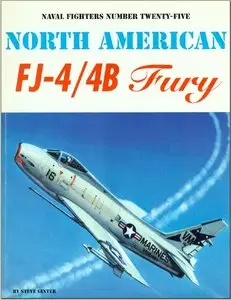 North American Fj-4-4B Fury (Naval Fighters 25) By Steve Ginter
Publisher: Naval Fighters 1994 | 104 Pages | ISBN: 0942612256 | PDF | 59 MB
This book, the third in the Fury series, has been on hold tor the last seven years while I continued to search for photographic evidence of all Navy and Marine FJ-4 / -4B units. I have finally given up the quest and have gone to press with photo documentation of 99% of the squadrons. The search for all FJ-3 units is still incomplete and a book on that variant has still not been scheduled. The FJ-4B was referred to by its pilots as the "Cadillac" while its counterpart and eventual replacement, the A4D was referred to as the "Tinkertoy", "Heineman's Hot Rod" and "Scooter". Many pilots felt the FJ-4B was the better attack platform, but the cost difference between it and the Sky-hawk doomed it to early retirement.
NO PASSWORD


!!!No Mirrors below, please! Follow Rules!