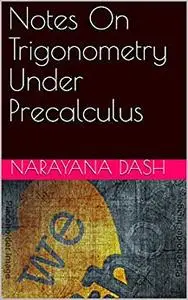 Notes On Trigonometry Under Precalculus by Narayana Dash
English | 2021 | ISBN: N/A | ASIN: B0928FQHCR | 555 pages | EPUB | 23 Mb
This is a bare all exposition of elementary trigonometry for high school students, sophomores or freshmen who self study . The institutions who train for engineering entrance exams like IIT JEE or NEET in India or elsewhere do not teach fundamentals and expect the student to be pre-tained from else where. This is the book for the purpose.
Feel Free to contact me for book requests, informations or feedbacks.
Without You And Your Support We Can't Continue
Thanks For Buying Premium From My Links For Support