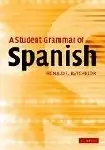 A Student Grammar of Spanish
Cambridge University Press | Ron Batchelor | ISBN: 0521670777 | PDF | 2006 | 2 MB
I have purchased dozens of Spanish grammar books over the past few years, and I can honestly say that this is one of the best. Because of the detailed explanation and numerous examples – both common and rare, this book is not for the beginning student. However, because of its rich content and clearly explained grammar rules, supported by excellent examples, I would use this book as an invaluable and necessary resource for my AP Spanish class.