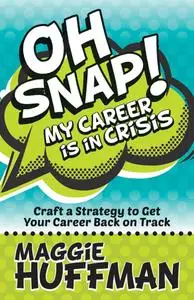 Oh Snap! My Career Is in Crisis: Craft a Strategy to Get Your Career Back on Track by Maggie Huffman
English | September 10th, 2019 | ISBN: 1683503457 | 210 pages | EPUB | 1.60 MB
The life coach and author of Whoops! I Forgot to Achieve My Potential offers a step-by-step guide out of crisis and onto your dream career path.
A career crisis can take many forms. Maybe you're stuck in a rut. Or maybe you got the big promotion you always wanted, only to discover it's not dream job you were imagining. Your first impulse may be to go out and take the next job you can find—or to give up on your career all together. But all too often, those emotional reactions simply lead us from one career crisis to another.
Before you start grasping for solutions, you need a strategy. In Oh Snap! My Career Is in Crisis, life coach Maggie Huffman guides you through the process from finding courage and clarity you need to begin, to executing your strategy once you've designed it.
Enjoy
My Blog.
No any convert or low quality!