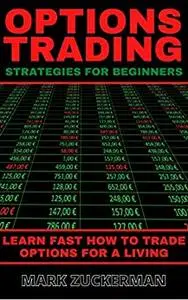 Options Trading Strategies for Beginners: Learn Fast How To Trade Options For A Living by Mark Zuckerman
English | 2021 | ISBN: N/A | ASIN: B08T7Q6FKD | 91 pages | EPUB | 0.96 Mb
IF YOU WANT TO TRADE OPTIONS, BUY THIS BOOK NOW AND GET STARTED TODAY!
This book is an excellent beginner's guide to learn about trading Options!
THIS BOOK WILL TEACH YOU;
•Options in general and why should you trade Options.
•What are Options pricing and Option Greeks.
•What are the pros and cons of Shorts and Longs in Options
•Should you Buy or Sell Options.
•What is Credit Spread Options Strategy,
•How to deploy Iron Condor Options Strategy,
•What is Butterfly Spread Options Strategy
•What are Straddle Options Strategies
•What is Liquidity and why it is Important for trading Options
•What are best Options Trading Resources such as tools, software, websites, books and trading video courses to utilise to become a better Options trader. What are the most common trading mistakes and how to avoid them
•What are the most common trading habits, tips and tricks that wealthy traders do and utilise daily
•What is the PDT rule and how you can avoid it using various methods
•Should you choose a cash or a margin account, what are the differences as well as the pros and cons of each
Feel Free to contact me for book requests, informations or feedbacks.
Without You And Your Support We Can't Continue
Thanks For Buying Premium From My Links For Support