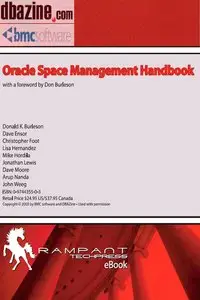 Donald K. Burleson, Jonathan Lewis, Dave Ensor, "Oracle Space Management Handbook"
Rampant TechPress | 2003 | ISBN: 0974435503 | 311 pages | PDF | 1,2 MB
Written by some of the world's most widely-read authors, this exciting eBook provides you with everything that you need to know to manage Oracle storage. You will learn how to monitor and reduce disk I/O, how to set-up your tablespaces for maximum efficiency and how to define Oracle tables and indexes to make the most efficient use of disk storage. Not for the beginner, this is a guru-level advanced Oracle handbook with highly-detailed explanations of Oracle storage internals. This eBook is laden with useful scripts that will allow you to quickly see inside your data files and tablespaces and tune them for optimal performance.
Only

ONE (1)

RS mirror, please