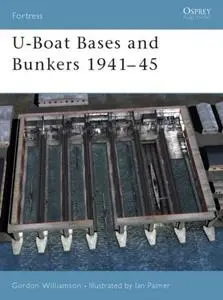 Gordon Williamson, Ian Palmer - U-Boat Bases and Bunkers 1941-45
Osprey Publishing | 2003 | ISBN: 1841765562 | English | 67 pages | PDF | 16.18 MB
Osprey Fortress 3
Few of the massive military structures built by Germany during World War II are as impressive as the U-Boat bases and bunkers in Germany, Norway and France. This title takes a close look at the formidable edifices on the French coast (Brest, Lorient, St Nazaire, La Pallice, Bordeaux) in Norway (Bergen, Trondheim) and Germany (Keil, Hamburg, Helgoland) and also focuses on the huge 'Valentin' factory complex at Bremen, which manufactured the new type XXI electro-boats. Bunker protective systems, such as camouflage, light and heavy flak installations and nearby air cover, are also examined as well as resident flotillas and the fate of the bases at war's end.