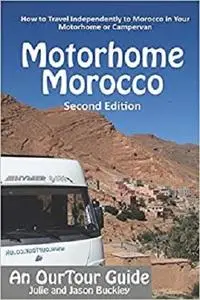 OurTour Guide to Motorhome Morocco: How to Travel Independently to Morocco in Your Motorhome or Campervan by Julie Buckley
English | May 8, 2017 | ISBN: 1521201978 | 183 pages | EPUB | 11 Mb
From the authors of OurTour Travel Blog : Motorhome Morocco - Fully updated in 2020.
Now that the UK is no longer part of the EU, the 90 in 180 day Schengen rule applies to UK based motorhomers. The fascinating country of Morocco is the perfect place to get out of the Schengen area and extend your motorhome , campervan or RV (recreational vehicle) adventure.
If you're thinking of touring Morocco in your motorhome? Are you wondering:
What will it be like driving over there?
Do I need to pay for an organised tour?
How easy is it to get my motorhome in and out?
Can I take my dog?
How do I cope with the language?
These were all thoughts that went through our heads on our first tour there. For a country that's closer to Spain than France is to England, it's so very different, but such a great adventure.
OurTour
When the idea of taking our motorhome and dog to Morocco first came up, we were very nervous. Everything we'd read told us that we had to take an organised tour, but we didn't, we toured independently, and we loved it. We wrote this book to help others to do the same and have updated it following subsequent trips to this amazing country. We've travelled in winter over the Rif, Middle and High Atlas mountains, visited the incredible cities of Fes and Marrakech and slept on the edge of the Sahara desert near Algeria. We bartered and haggled and came away with some great bargains and many, many happy memories.
Motorhome Morocco
OurTour Guide to Motorhome Morocco is a perfect book to help you plan your trip and to give you a flavour of what to expect! The book is focuses on the practical, first-hand experience we gained on taking our motorhome (and dog) to Morocco and will help you to avoid some of the mistakes we made. It covers topics such as:
• Buying ferry tickets
• An easy step-by-step guide to entering and leaving Morocco
• Driving a motorhome in Morocco
• The costs
• Insurance
• Ideas of what to take, and what not to take
• How to buy things, when to haggle and when not to
• How to find safe places to stay
• Our experience of taking our dog to Africa
• Scams and nuisances, so you can avoid them
• What campsites and guarded parking we used, and our thoughts about them
By not using an organised tour company, we saved ourselves hundreds of pounds and gave ourselves the freedom to explore this amazing country at our own pace. We hope our book will inspire you to do the same too.
Feel Free to contact me for book requests, informations or feedbacks.
Without You And Your Support We Can't Continue
Thanks For Buying Premium From My Links For Support