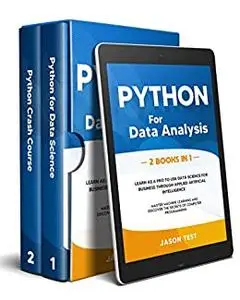 PYTHON FOR DATA ANALYSIS: 2 BOOKS IN 1: The ultimate guide to learn as a PRO to use data science for business through applied artificial intelligence. … discover the secrets of computer programming by Jason Test
English | November 10, 2020 | ISBN: N/A | ASIN: B08N928SLV | 236 pages | Rar (PDF, AZW3) | 1.90 Mb
Master the best methods for PYTHON. Learn how to programming as a pro and get positive ROI in 7 days with data science and machine learning
Are you looking for a super-fast computer programming course?Would you like to learn the Python Programming Language in 7 days?Do you want to increase your business thanks to the web applications?
If so, keep reading: this bundle book is for you!
Today, thanks to computer programming we can work with sophisticated machines that can study human behavior and activity to identify underlying human behavioral patterns. Scientists can predict exactly what products and services consumers are interested in. It is getting increasingly challenging for traditional businesses to retain their customers without adopting one or more of the
cutting-edge technology
explained in this book.
PYTHON FOR DATA ANALYSIS will introduce you many selected tips and
breaking down the basics of coding
. You will discover as a beginner the world of
data science
,
machine learning
and
artificial intelligence
. The description of each topic is
crystal-clear
and you can easily practice with
related exercises
. Examples and
step-by-step guides
will guide you during the code-writing learning process.
The following list is just a tiny fraction of what you will learn in this bundle
PYTHON FOR DATA SCIENCE
✅
The basics of Python programming ✅ Differences among programming languages: Vba, SQL, R, Python✅ 4 reasons why Python is fundamental for Data Science✅ Introduction to some Python libraries like NumPy, Pandas, Matplotlib,✅ Python design patterns✅ 3 step system why Python is fundamental for Data Science✅ Optimal tools and techniques for data visualization✅ Analysis of popular Python projects templates✅ Game creation with Pyhton
PYTHON CRASH COURSE
✅
A Proven Method to Write your First Program in 7 Days✅ 3 Common Mistakes to Avoid when You Start Coding✅ Fit Python Data Analysis to your business✅ A Simple Strategy to Write Clean, Understandable and Flexible Codes ✅ The One Thing You Need to Debug your Codes in Python✅ 5 Practical exercises to start programming ✅ 7 Most effective Machine Learning Algorithms
Feel Free to contact me for book requests, informations or feedbacks.
Without You And Your Support We Can't Continue
Thanks For Buying Premium From My Links For Support