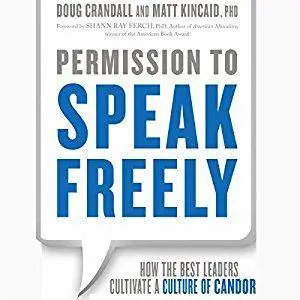 Permission to Speak Freely: How the Best Leaders Cultivate a Culture of Candor [Audiobook] by Matt Kincaid , Doug Crandall
English | February 1st, 2017 | ASIN: B01N16EQC2, ISBN: 1626569223 | MP3@32 kbps | 3 hrs 25 mins | 45.74 MB
Narrators: Wayne Shepherd
What if people could feel confident communicating what they are really thinking without fearing a negative response from their colleagues or boss? Consulting with a diversity of organizations for the past decade, the authors have seen time and again that leaders are failing to draw out ideas and perspectives from their introverts and, at the same time, shutting up their extroverts. Inhibitors in organizations make candid communication unsafe, rendering many things left unsaid.
Permission to Speak Freely explains the inhibitors that cause candid communication to feel unsafe and then provides tools to help leaders overcome them and begin to cultivate a culture of candor. This book is a letter to leaders - filled with experience, research, and practicality - that implores all persons in positions of power to create a work environment characterized by honesty and trust that inspires everyone to share fearlessly, speak freely, and come forward with new ideas.
Research shows candid communication enhances innovation, ownership, engagement, and performance. Put simply, if you're a leader, when your people don't speak up, it's not their problem - it's yours.