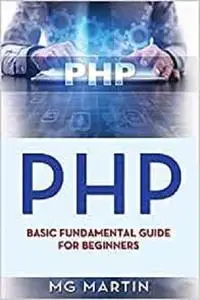 Php: Basic Fundamental Guide for Beginners by MG Martin
English | June 15, 2018 | ISBN: 1721505806 | 85 pages | EPUB | 0.94 Mb
Are you new to PHP? Maybe you want to learn more about PHP programming, but you don't know where to start? Regardless of your skill level, this book will provide you with the right foundation so you can start building dynamic and interactive websites yourself. Not only that, but this book will also help enhance your PHP coding skills.
Learn more than just what you should type in your favorite text editor.The book will teach you the fundamentals so that when you get down to coding your favorite PHP application, there's no second-guessing. You will learn PHP in a way which most experienced PHP coders never do. Challenge your PHP coding skills and allow your confidence level to rise to new heights.
This PHP: Basic Fundamental Guide for Beginners is a fast-paced book perfect for PHP beginners who want to master the art of writing quality PHP code. Have a close look at the loops, decisions, functions, and a whole lot more. You will also discover the basic syntax that's applied when writing PHP applications. Are you curious to learn how PHP works? Fortunately, this book is designed for beginners like you.
The book starts off with basic syntax and the 'Hello World' program. If you want a book which will guide you so you can how to code, when, what, and why you need to code, then PHP: Basic Fundamental Guide for beginners is the perfect book for you. With the help of this book, you are going to learn:
How you can set up your PHP environment to create your first PHP program
How you can easily input PHP values for web users
Learn more about operators, expressions, arrays, and the variables in PHP
Discover the power of conditional statements
Discover how to insert, delete, and update data in a database
Learn how to secure your passwords in PHP
How to build a complete member registration system
This book is right for you if you are just new to PHP and you want to get started on coding with it. Do you want to learn how to build your first PHP web application? PHP: Basic Fundamental Guide for Beginners has everything you have been looking for.
Feel Free to contact me for book requests, informations or feedbacks.
Without You And Your Support We Can't Continue
Thanks For Buying Premium From My Links For Support