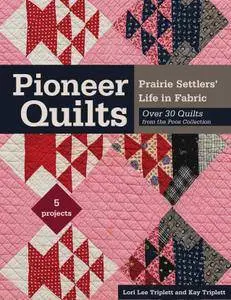 Pioneer Quilts: Prairie Settlers' Life in Fabric - Over 30 Quilts from the Poos Collection - 5 Projects by Kay Triplett, Lori Lee Triplett
English | August 1st, 2017 | ISBN: 1617454656 | 100 pages | PDF | 92.30 MB
Join fictional character Esther Heinzmann as she narrates the journey through authentic, pioneer-era creations from the Poos Collection—each featured in full color on a 2-page spread. Ideal for traditional quilters and quilt history buffs, this robust offering of 30 antique quilts also includes 5 quilt projects that readers can recreate at home.
Offering access to the authors' privately held family collection, this book gives an in-depth look at the importance of quilts to the pioneer life. As you view the quilts, you'll also read accounts of the Great Migration, including information on preparation for the long journey and a depiction of real life on the prairie.