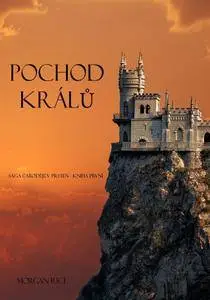 Pochod Králů (Sága Čarodějův Prsten – Kniha Druhá)
by Morgan Rice
English | EPUB | 3.6 MB
"ČARODĚJŮV PRSTEN má všechny rysy potřebné pro jasný úspěch: hlavní i vedlejší příběh, záhadná atmosféra, stateční rytíři a rozkvétající vztahy, které zacelují rány na zlomených srdcích, a dále je tu také podvod a zrada. Slibuje dlouhé hodiny zábavy a jistě uspokojí všechny věkové kategorie. Dílo najde své místo v knihovnách u všech příznivců fantasy literatury."–Books and Movie Reviews, Roberto Mattos POCHOD KRÁLŮ nás posouvá na Thorově cestě k dospělosti o krok dále. Thor si začíná uvědomovat kdo ve skutečnosti je, jaké síly se v něm skrývají a pomalu se stává skutečným válečníkem. Poté, co se mu podaří dostat se z vezeňské kobky, přijde Thor ke své hrůze na další pokus o vraždu krále MacGila. Když potom MacGil zemře, království se propadne do zmatku. V prostředí, kde se každý snaží vyškrábat na uvolněný trůn, je Králův Dvůr dějištěm mnoha rodinných dramat, mocenských machinací, ambic a žárlivosti, násilí i zrady. Nástupce musí být vybrán z králových potomků a legendární Meč Osudu, zdroj veškeré jejich moci, dostane svou šanci být pozvednut dalším kandidátem. Všechny plány se ale zhroutí, když je odhalena vražedná zbraň a pozornost všech se upne k hledání vraha. Ve stejnou dobu musí rod MacGilů čelit nové hrozbě ze strany rodu McCloudů, kteří vyrazí do útoku na jejich hranici uvnitř Prstenu. Thor se snaží získat zpátky Gwendolyninu lásku, ale nemá času nazbyt, protože se musí se svými druhy z Legie chystat na Stovku – sto dní trvající vyčerpávající výpravu, kterou musejí projít všichni její členové. Legie se vydá přes Kaňon, mimo ochranu Prstenu do Divočiny, a poté přes Tartuviánské moře na Mlžný ostrov, o kterém se říká, že jej hlídá drak. Bude to jejich zkouška opravdových válečníků.Vrátí se zpátky? Vydrží Prsten, když budou pryč? A zjistí Thor konečně, jaké je tajemství jeho osudu?POCHOD KRÁLŮ je epický příběh o přátelství a lásce, rivalitě a spolupráci, o rytířích a dracích, intrikách a politických machinacích, o dospívání, o zlomených srdcích, o podvodu, ambicích a zradě. To vše je zasazeno do důkladně promyšleného fiktivního fantasy světa. Je to příběh o cti a odvaze, o osudu a předurčení, a také o magii. Je to fantasy, které nás přivede do světa, na který už potom nikdy nezapomeneme, a které osloví čtenáře obou pohlaví a každého věku. Díly č.3 – 17. jsou již rovněž dostupné!