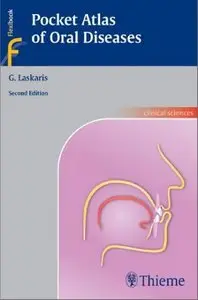 Pocket Atlas of Oral Diseases (Flexibook) by George Laskaris (Repost)
Publisher: Thieme Medical Publishers | ISBN: 1588902498 | November 2005 | PDF | 370 pages | 8.2 Mb
Based on the best-selling hardcover edition, the new edition of the Pocket Atlas of Oral Diseases provides complete information on the diagnosis and treatment of oral disease. Featuring 367 vivid color photographs, this Thieme Flexibook is the indispensable pocket reference for otolaryngologists, dentists, dermatologists and primary care practitioners.
The book has been improved further with 100 additional color plates and 31 new topics, previous illustrations replaced and updated with new color plates, and some text modifications where appropriate. The book is truly white coat pocket size, but nevertheless reflects the advances and phenomenal progress that have been made in the biosciences and therapeutics in its diagnosis and treatment suggestions for the myriad cases therein. Although small in size, this book must be one of the most profusely illustrated pocket works referencing stomatological diseases that is currently available worldwide. This reviewer is amazed at the detailed and comprehensive nature of the cases described, the quality clinical photographs and what is certainly an incredible breadth of specialty practice by the author to deliver these.