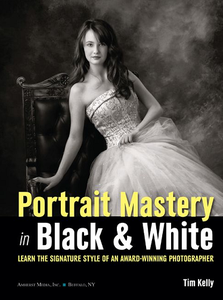 Portrait Mastery in Black & White: Learn the Signature Style of a Legendary Photographer by Tim Kelly
ISBN: 1608958434 | 128 pages | PDF | February 10, 2015 | English | 7.80 Mb
Tim Kelly is a Master Photographer whose portrait work has inspired people in the portrait photography industry since the 1980s. His work has a classic, polished quality that beautifully depicts the personality of each subject, with no gimmicks. His style is reliant on careful camera technique, flawless lighting, and an uncanny ability to coax the most flattering-possible pose from every man, woman, and child who steps in front of his camera.
In this book, Tim Kelly presents 60 of his most impressive and diverse black & white portrait images of men, women, children, and groups. For each of the sixty images, readers will get a deconstructive look at every aspect of building the image, from the ground up. Kelly will discuss the creative concept behind his images and share the gear, exposure, lighting, and posing strategies he learned to create gorgeous black & white portraiture with an exquisite tonal range, beautiful, form-flattering highlights and shadows, and both refined and comfortable poses that invite the viewer to study the image frame.
This book contains all of the information you need to create standout black & white portraiture–from conceptualization, to posing and lighting, to postproduction and printing options.
Feel Free to contact me for book requests, informations or feedbacks.
Without You And Your Support We Can't Continue
Thanks For Buying Premium From My Links For Support