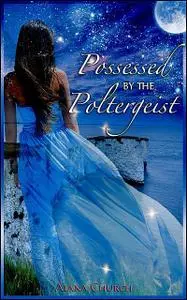 «Possessed By The Poltergeist» by Alana Church
English | EPUB | 0.2 MB
Author Mark Watford didn't expect to fall in love when he moved into the old farmhouse. But Brianna, his landlady's beautiful daughter, quickly captured his heart. 
But Mark and Brianna are not alone. A presence has been watching them. One fateful night, it makes its presence known. Will Mark and Brianna's love be able to survive when she's been…POSSESSED BY THE POLTERGEIST?  
~~~~~ Excerpt ~~~~~ 
~One hundred years,~ her long-dead aunt whispered. She stopped beside Bree's chair, looking down at her as she shrank away in fear. ~One hundred years of waiting, hoping that the next generation would give birth to a woman who would not throw her maidenhood away like a broken toy. One hundred years, until you came along, Brianna. It is time. I lost my life in anger, furious that my virginity could not be given to my one true love, dead and buried half a world away. Now, through you, I will experience that joy. And if God is kind, he will allow me to leave this world to be reunited with Jimmy in Heaven.~ 
Brianna's throat worked, caught between pity and terror. "Wait, what?" 
Mark was looking at her worriedly. "Bree, are you all right?" 
She held her hands up, trying to fend off his questions and a world which was suddenly moving too quickly. Her Aunt Hazel, on the other hand, had no such qualms. As easily as she would step from one room to another, she moved towards her and let her ghostly body merge with Bree's. 
~Oh, God,~ a voice sighed in her ear. ~To have a body again. And such a fair one. Thank you, Grandniece.~ 
To her horror, she heard her voice, sounding thick and slurred when it emerged form her lips. "Mark, I'm tired of waiting. Let's go upstairs and make love." 
Mark leaned back in his chair. His eyes, reflecting the flames of the candles on the table, were wide and panicked. "What? No. No way. Bree, what's wrong with you? You sound terrible." 
-No!— Her head rang with the echoes of her silent shout. -I won't let you do this to me!— Caught between opposing forces, her body lurched back and forth in her chair. One moment it tried to rise to its feet. The next it settled back with a thump as one woman or the other gained a momentary advantage. 
Mark pulled his cell phone out of his pocket and tried to dial, his fingers shaking. He looked at the screen with disbelief as it refused to follow his commands. Swearing, he jumped up and picked up the land line, finding that completely inoperative as well. 
~No electronics.~ Hazel's voice was grimly amused. ~None of the tools or toys you use in this decadent age. Only two people, and their love. And me.~ 
-No! How can you do this? How can you violate me by forcing me against my will? Have you no humanity left?- 
~But I need to!~ Hazel's voice wailed. ~Please! I don't know how much longer I can stay sane! You have no idea how terrible my existence is. How much I hate it. Please, I just need to make love one time, then I can move on. Would you have me become a spirit of anger and hatred, haunting this house until no one is willing to live here? Until it becomes a tottering wreck, filled with rats and vermin, fit only for a bulldozer?~ 
-Then work with me, not against me,— Brianna countered. -Do you think I don't care about you? God, Aunt Hazel, you're my own blood! And if you have been watching us, you know how much Mark and I care for each other. We are in love. It was only a matter of time before I decided to give myself to him. I chose tonight. If you hadn't blighted the mood, we'd probably be in his bed right now.- 
She took a deep breath, ignoring Mark's frantic dithering. -If this is what you need to move on, I will help. But you are going to be a passenger in this body. Not its operator.-