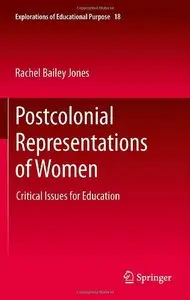 Rachel Bailey Jones, "Postcolonial Representations of Women: Critical Issues for Education (Explorations of Educational Purpose)"
Publisher: Springer | ISBN 10: 9400715501 | 2011 | PDF | 242 pages | 1.5 MB
In this accessible combination of post-colonial theory, feminism and pedagogy, the author advocates using subversive and contemporary artistic representations of women to remodel traditional stereotypes in education. It is in this key sector that values and norms are molded and prejudice kept at bay, yet the legacy of colonialism continues to pervade official education received in classrooms as well as 'unofficial' education ingested via popular culture and the media. The result is a variety of distorted images of women and gender in which women appear as two-dimensional stereotypes.
The text analyzes both current and historical colonial representations of women in a pedagogical context. In doing so, it seeks to recast our conception of what 'difference' is, challenging historical, patriarchal gender relations with their stereotypical representations that continue to marginalize minority populations in the first world and billions of women elsewhere. These distorted images, the book argues, can be subverted using the semiology provided by postcolonialism and transnational feminism and the work of contemporary artists who rethink and recontextualize the visual codes of colonialism. These resistive images, created by women who challenge and subvert patriarchal modes of representation, can be used to create educational environments that provide an alternative view of women of non-western origin.