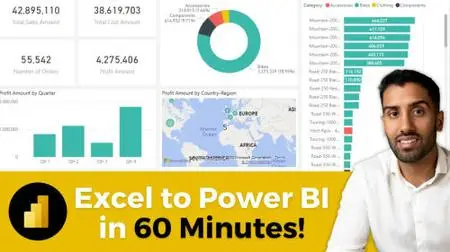 Power BI For Data Analysts: Excel to Power BI in 60 Minutes [2022]
Duration: 56m | .MP4 1280x720, 30 fps(r) | AAC, 48000 Hz, 2ch | 344 MB
Genre: eLearning | Language: English
Requirements:
Excel to Power BI in 60 Minutes Data - this is provided to you in this course.
Download and Install Microsoft Power BI (No Mac Supported) -  I will show you how to do this.
Work or Student e-mail to sign up for Microsoft Power BI - this is free!
If you don't have a work or student e-mail, then please watch this video for an alternative solution using a temporary e-mail address.
An open mind and willingness to learn!
Description:
If you are looking for a project-based and hands-on introduction to Microsoft Power BI, then this is the course for you.
Power BI is the top self-service business intelligence tool, often combined with data from Microsoft Excel, which is what we will using in this course.
Course Outline & Objectives:
Download & Install Course Material - We download and install Power BI and course data.
Data Analysis Process - Walkthrough of a data analysis process we will follow throughout the course.
The Business Problem - We break down the business problem we are trying to solve using data analysis.
Investigate The Data - A final look at the data before starting to work in Power BI.
Load & Transform Data - We load the Excel data we need and start preparing it data analysis.
Create Measures & Calculated Columns - We write and create  calculations in DAX (Data Analysis Expressions) - the building blocks of the dashboard.
Create The Main Dashboard - We create the Main Dashboard.
Create The Details Page - We create an additional Detail Page to support findings on a detailed level.
Publish The Report - We publish the report so that end users can consume it.
Course Project:
You will be playing the role of a data analyst at an online Bicycle Company, and you have been given an assignment from a business stakeholder to take data from Excel and create a dashboard in Power BI.
More details can be found under "Project Description".
Who Is This Course For?
Aspiring data professionals looking for a project-based and hands-on introduction to Microsoft Power BI to learn from and use for their data analyst portfolio.
Data analysts and Excel users looking to develop Power BI skills within data modelling, dashboard design, data analysis expressions and business intelligence skills.
Students who enjoys learning through an engaging and highly interactive project based course.
Anyone looking to pursue a career in data analysis or business intelligence.