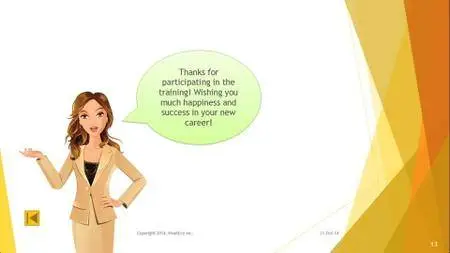 PowerPoint 2013: Tips, Tricks, and Shortcuts
MP4 | Video: 720p | Duration: 3:05:03 | English | Subtitles: VTT | 552.0 MB
Make your PowerPoint presentations dazzle with these expert tips and tricks from David Rivers. Designed to help you use PowerPoint 2013 more efficiently, this course begins with the top 10 tips you should know, including how to repurpose slides from other presentations, create custom shapes and animations, and insert online video into a slide. From there, the course offers pro tips on managing files; using little-known keyboard shortcuts; getting the most out of your text, objects, and media; sharing your presentations; and much more.
Need quick tips and shortcuts for other Office apps? Check out our other Power Shortcuts courses.
Topics include:
Matching colors, with the Eyedropper tool
Zooming in to highlight details
Quickly accessing recent files
Reducing file sizes
Opening Word docs in PowerPoint
Customizing the Ribbon and the Quick Access Toolbar
Navigating slideshows from the keyboard
Adding headers, footers, and dates
Customizing clip art
Creating 3D shapes and the perfect gradient
Animating bulleted lists
Coordinating transitions
Removing private and proprietary metadata
Sharing your presentation in the cloud
Saving a presentation as a template