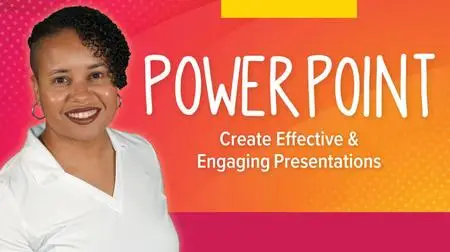 PowerPoint - Create Engaging & Effective Presentations
Duration: 1h 29m | .MP4 1280x720, 30 fps(r) | AAC, 48000 Hz, 2ch | 902 MB
Genre: eLearning | Language: English
PowerPoint takes a while to master. The more you use it, manipulate it, and work within its constraints, the more you'll be able to create the kind of decks you want. At least, that's the goal.
This course takes a business-centered, project manager approach to learn tips, tools, techniques, and best practices so that you can use PowerPoint more effectively — and, most importantly, keep Clients happy (and coming back for more)!
This course takes a User approach to learning 
As a business person myself, I understand that you don't have time to watch a course from beginning to end. If you have a question or something specific in mind that you need to know, you require a direct answer without extra fluff.
This PowerPoint course is designed with you in mind
• Easily jump around, watch a video, get precisely the information you need, and move on
• Lesson titles are keyword-based and easy to navigate
• Each lesson starts with a clearly defined learning objective that's 1-3 sentences long, written out for you to see, and shown in the first 6 seconds of every video. (This allows you to quickly determine if the lesson is what you need or not — without having to watch the whole video to find out)
• At the end of each lesson I include a slide that summarizes the main points and takeaways
Who this course is for:
• People who already have a basic understanding of PowerPoint
• Created with the business person in mind
• From project managers to the CEOs of an organization
• Entrepreneurs and business consultants will also benefit
Who this course is NOT for:
• Someone looking for an entry/beginner level PowerPoint course
Improve your skills 
• Filled with in-depth, practical, business-specific examples 
• Best practices to use when working with various elements within a slide (i.e., background, logos, color, text, images)
• Higher-level intermediate/advanced instruction
• Actionable tools and design tips you can begin implementing immediately
Requirements:
• PowerPoint 2016 / 2019 (or Office 365)
About the Instructor 
My name is Aisha (EYE-sha) Borel. I have a Bachelor's degree in Fine Arts. I majored in Graphic Design in college and have been working as a professional graphic designer for 22 years. In that span of time, I have worked with a vast range of companies. From large Fortune 500 corporations to small "Mom 'n Pop" grass-root businesses, I've designed logos, t-shirts, brochures, infographics, and other "you name it" marketing materials.
In the last 5 years, my job as a graphic designer has evolved — over 65% of my billable time centers around designing and tweaking various types of PowerPoint presentations. 
More specifically, these last 2 years as an Instructional Designer (on top of being a graphic designer as well) have widened my perspective by allowing me to take a "learner-based approach" to everything I create.