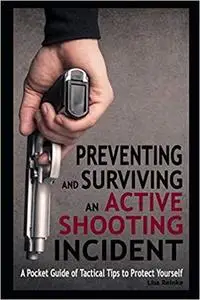 Preventing and Surviving an Active Shooting Incident: A Pocket Guide of Tactical Tips to Protect Yourself by Independently published
English | September 9, 2020 | ISBN: N/A | ASIN: B08HRV9GNK | 28 pages | MOBI | 0.18 Mb
You hear a shot in the bathroom. What do you do?
Spending just 30 minutes reading this book may help save your life if this happens to you.
In 2019, the number of gun-caused deaths in the United States was 15,208. As of September 2020, this number has skyrocketed to 28,838. Active shootings are especially prevalent in schools and workplaces. While no one is 100% sure about the causes behind them, we have enough data that will help us prevent these shootings from happening ever again. Prevention is all about knowing the warning signs and having a plan in place for wherever you may be.
You'll learn in this book:
Motives behind shootings.
How to prevent shootings.
How to plan a proper response to an active shooting.
How to stay safe during an active shooting.
What to do after an active shooting.
˃˃˃ The Run, Hide, Fight strategy is also thoroughly explained to help you get out of danger if you ever find yourself in the location of an active shooting.
Preparing yourself requires action on your part. It doesn't take long, and it is important.
Protect yourself. Scroll up and grab a copy today.
Feel Free to contact me for book requests, informations or feedbacks.
Without You And Your Support We Can't Continue
Thanks For Buying Premium From My Links For Support