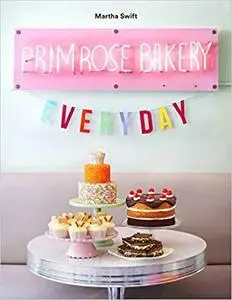 Primrose Bakery Everyday by Martha Swift
English | March 1, 2016 | ISBN: 0224100769 | 272 pages | AZW3 | 16 Mb
Primrose Bakery is renowned for easy, foolproof and delicious recipes. This book has over 100 of the very best new recipes from the bakery. It is for anyone who wants fun, great-tasting recipes which genuinely work. Chapters are arranged by season. For Spring, make Key Lime Pie Cupcakes or Maple Banana Loaf with Butterscotch Glaze. For Summer, Strawberry Milkshake Cake or Campari and Grapefruit Cupcakes. Perfect Autumn treats include Chiffon Pumpkin Ginger Pie and Black Sesame Cupcakes. And for Winter: try Gluten-Free Avocado Chocolate Cookies or Peanut Butter and Oreo Brownie. Whether you want to bake a seasonal recipe, something for a special occasion, or something to suit that day's mood, this one-stop baking bible has it all. Includes metric measures.