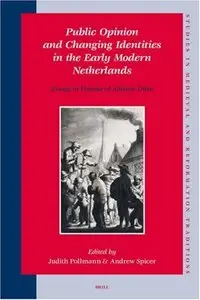 J. Pollmann, A. Spicer, Judith Pollmann, Andrew Spicer , "Public Opinion and Changing Identities in the Early Modern Netherlands"
BRILL | 2006 | ISBN: 9004155279 | 310 pages | PDF | 2,3 MB
This lively collection of essays examines the link between public opinion and the development of changing 'Netherlandish' identities in the sixteenth and seventeenth centuries.
About the Author
Judith Pollmann is Senior Lecturer in Early Modern Dutch History at the University of Leiden. She is the author of Religious Choice in the Dutch Republic. The Reformation of Arnoldus Buchelius (1565-1641) (1999) and of numerous articles on the religious history of the early modern Netherlands. She is currently working on a book on Catholic identity and religious change in the Habsburg Netherlands, 1520-1635.
Andrew Spicer is Senior Lecturer in Early Modern European History at Oxford Brookes University. His The French-speaking Reformed Community and their Church in Southampton, 1567-c. 1620 (1997) was based on his University of Southampton doctoral thesis. He has co-edited Society and Culture in the Huguenot World (2002), Sacred Space in Early Modern Europe (2005), Defining the Holy. Sacred Space in Medieval and Early Modern Europe (2006), and is currently completing The Calvinist Church in Early Modern Europe.
Only

ONE (1)

RS mirror, please