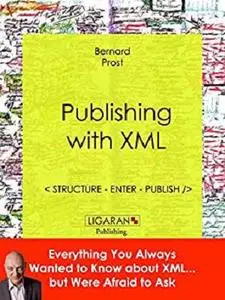 Publishing with XML: Structure, enter, publish by Bernard Prost, Ligaran
English | June 19, 2015 | ISBN: N/A | ASIN: B0100W29DI | 246 pages | AZW3 | 10 Mb
XML is now at the heart of book publishing techniques: it provides the industry with a robust, flexible format which is relatively easy to manipulate. Above all, it preserves the future: the XML text becomes a genuine tactical asset enabling publishers to respond quickly to market demands. When new publishing media appear, it will be possible to very quickly make your editorial content available at a lower cost. On the downside, XML can become a bottomless pit for publishers attracted by its possibilities. There is a strong temptation to switch to audiovisual production and to add video and animation to what we currently call a book, i.e. a written, relatively linear discourse representing a series of ideas. Publishers cannot ignore technology, however. It is better to recognize the threats of innovation and to maintain your business and your convictions by boarding the e-publishing ship. But make sure you carry a life preserver, XML, to ride above the waves of modern times.