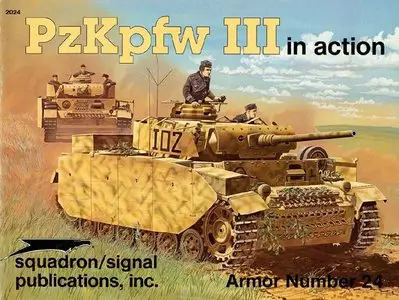 PzKpfw III in Action By Bruce Culver
Publisher: Squadron/Signal Publications Inc. 1988 | 52 Pages | ISBN: 0897471997 | PDF | 16 MB
The Panzerkampfwagen III (PzKpfw III), along with the contemporary PzKpfw IV, represented a major step forward in the development of the modern main battle tank. These vehicles were the first tanks designed for use in integrated armor attacks, like those envisioned by Guderian and other farsighted leaders who understood the potential of mobile warfare. Design contracts for the PzKpfw III and IV were issued by the German Ordnance Department to the firms of MAN, Daimler-Benz, Rheinmetall-Borsig, and Krupp in 1935. The lighter vehicle, in the 15 ton class, was originally designated the 37mm Geschutz-Panzerwagen, and given the number Vs Kfz 619 (Trial Vehicle 619). Later the designation was changed to Zugfuhrerwagen (platoon leader's vehicle). Afterevaluating designs from both Krupp and Daimler-Benz, the Ordnance Depart­ment awarded a development contract to Daimler-Benz for production of a series of pro­totype vehicles under the designation Panzerkampfwagen III with production of the first prototypes beginning in 1937.
NO PASSWORD


!!!No Mirrors below, please! Follow Rules!