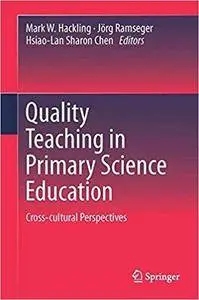 Quality Teaching in Primary Science Education: Cross-cultural Perspectives by Mark W. Hackling, Jörg Ramseger, Hsiao-Lan Sharon Chen
English | 2017 | ISBN: 331944381X | 327 Pages | PDF | 8.7 MB
​This edited volume explores how primary school teachers create rich opportunities for science learning, higher order thinking and reasoning, and how the teaching of science in Australia, Germany and Taiwan is culturally framed. It draws from the international and cross-cultural science education study EQUALPRIME: Exploring quality primary education in different cultures: A cross-national study of teaching and learning in primary science classrooms. Video cases of Year 4 science teaching were gathered by research teams based at Edith Cowan University, Deakin University, the Freie Universität Berlin, the National Taiwan Normal University and the National Taipei University of Education. Meetings of these research teams over a five year period at which data were shared, analysed and interpreted have revealed significant new insights into the social and cultural framing of primary science teaching, the complexities of conducting cross-cultural video-based research studies, and the strategies and semiotic resources employed by teachers to engage students in reasoning and meaning making. The book's purpose is to disseminate the new insights into quality science teaching and how it is framed in different cultures; methodological advancements in the field of video-based classroom research in cross-cultural settings; and, implications for practice, teacher education and research.