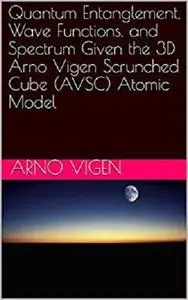 Quantum Entanglement, Wave Functions, and Spectrum Given the 3D Arno Vigen Scrunched Cube (AVSC) Atomic Model by Arno Vigen
English | January 18, 2019 | ASIN: B07MY7Y5ZW | 99 pages | AZW3 | 0.75 MB
Quantum entanglement is touted as the basis for quantum computing. Instead of moving electrons physically, you can change their 'spin' and at another position get that measurement. It can make computers 10,000 times faster.
The amazing fact is that a particle may shift, and the entanglement 10,000x further away also changes in coordination.
Subatomic particles, energy, and those quantum entanglement nodes takes 3D engineering. This book explains the breaktrhough approach for the locations and measurement of those interactions. This approach is not statistical, but the basis of circuit engineering that can get applied today.