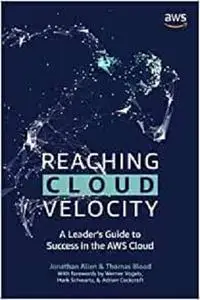 Reaching Cloud Velocity: A Leader's Guide to Success in the AWS Cloud by Jonathan Allen
English | April 7, 2020 | ISBN: N/A | ASIN: B086PTDP51 | 291 pages | EPUB | 3.91 Mb
Netflix, Airbnb, Verizon, Experian, and Ancestry are just some of the millions of customers who now power their business with Amazon Web Services (AWS). AWS has transformed the ability of businesses of every size and in every industry to reduce costs while being more secure, more resilient, and innovating much faster than ever before. Leaders looking to emulate this business impact with cloud will learn powerful lessons from those have gone before to accelerate their own journeys.Reaching Cloud Velocity provides leadership best practices covering the most requested customer topics, including:- How enterprises are transforming with AWS- Aligning business and technology strategy to benefit from cloud- Reskilling and scaling your cloud fluency- Setting the right culture and organization model to attract and retain engineering talent- How to migrate data centres to AWS while holistically benefitting from the improved availability, security, and governance it can offer.The book also goes deeper into how leaders can leverage the inherent reliability and durability of the AWS Cloud, and how compute, containers, serverless, APIs, microservices, database, analytics, and machine learning have evolved into a set of highly resilient, secure, and scalable building blocks - allowing builders to innovate at a fraction of the costs they would have typically come to expect.Authors Jonathan Allen and Thomas Blood, AWS Enterprise Strategists, have previously led cloud transformations as AWS customers. They bring their own unique experience - combined with that of the 500+ customers that have worked with around the globe - to create a book chockfull of lessons, knowledge, and advice that leaders have been asking for.
Feel Free to contact me for book requests, informations or feedbacks.
Without You And Your Support We Can't Continue
Thanks For Buying Premium From My Links For Support