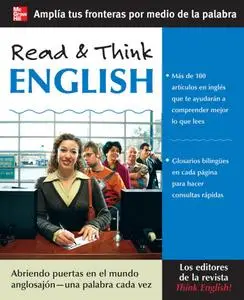 Read & Think English
by The Editors of Think English! magazine
English | EPUB | 12.9 MB
Aprende inglés a medida que descubres la riqueza de la cultura estadounidenseConstruye un efectivo vocabulario en inglés sin la carga de aburridas repeticiones o tediosas memorizaciones con Read & Think English. Dentro encontrarás más de cien fascinantes artículos escritos en inglés sobre cosas tales como los apreciados rituales de Acción de Gracias o cómo interpretar el lenguaje corporal y la comunicación no verbal. Cada artículo presenta el nuevo vocabulario en negritas dentro del mismo artículo; en los márgenes encontrarás las traducciones. Aprenderás inmediatemente toda palabra que te sea desconocida.Con Read & Think English:
Comprenderás el vocabulario en inglés rápida y fácilmente con la ayuda de las traducciones al español
Revisarás y reforzarás el nuevo conocimiento adquirido con preguntas al final de cada capítulo
Aprenderás sobre los Estados Unidos, la diversidad de su gente, y sus tradiciones únicas
¡Elimina lo aburrido de aprender un idioma y descubre una herramienta lingüística innovadora que te mantendrá entretenido/a en tu recorrido hacia el manejo competente del inglés!