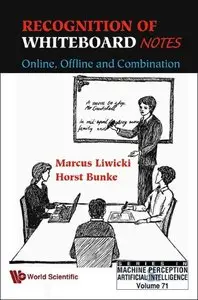 Marcus Liwicki, Horst Bunke, "Recognition of Whiteboard Notes: Online, Offline and Combination"
World Scientific Publishing Company | 2008 | ISBN: 9812814531 | 228 pages | PDF | 3,3 MB
This book addresses the task of processing online handwritten notes acquired from an electronic whiteboard, which is a new modality in handwriting recognition research. The main motivation of this book is smart meeting rooms, aim to automate standard tasks usually performed by humans in a meeting.
The book can be summarized as follows. A new online handwritten database is compiled, and four handwriting recognition systems are developed. Moreover, novel preprocessing and normalization strategies are designed especially for whiteboard notes and a new neural network based recognizer is applied. Commercial recognition systems are included in a multiple classifier system. The experimental results on the test set show a highly significant improvement of the recognition performance to more than 86%.
Not all books on AvaxHome appear on the homepage.
In order not to miss many of them follow
ebooks section
(see top of each page on AH)
and visit
my blog
too :)
NO MIRRORS according to the rules