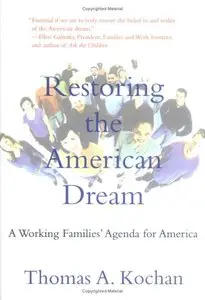 Thomas A. Kochan, "Restoring the American Dream: A Working Families' Agenda for America"
The MIT Press | 2005 | ISBN: 0262112922 | 267 pages | PDF | 1,85 MB
Many American families have not prospered in the new "knowledge economy." The layoffs, restructurings, and wage and benefit cuts that have followed the short-lived boom of the 1990s threaten our deeply held values of justice, fairness, family, and work. These values—and not those superficial ones political pollsters ask about—are the foundation of the American dream of good jobs, fair pay, and opportunities for all. In this call to action for families, business, labor, and government, Thomas Kochan outlines ways in which we can empower working families to earn a good living by doing satisfying work while still having time for family and community life.
We cannot make the transition to a knowledge economy, writes Kochan, with a workforce that is stressed, frustrated, and insecure. Businesses need to rebuild relationships with their employees based on trust. And working families need to take control of their own destinies.
First, we can take action that goes beyond the workplace buzzwords flexible and family friendly to design systems that support productive work and healthy family life. We can invest in better basic education and life-long learning, and we can work toward strategies for creating and sustaining good jobs with portable benefits. We need organizations that value investors of human capital—their employees—as highly as they do investors of financial capital, and we need a renewed labor movement to give workers a stronger voice. Kochan lays out an agenda for working families in the twenty-first century that calls for business, labor, government, and workers to come together to make the changes that will allow us all to benefit from the new economy. The solution to our problems, he points out, is too important to be left to "the market."
Not all books on AvaxHome appear on the homepage.
In order not to miss many of them follow
ebooks section
(see top of each page on AH)
and visit
my blog
too :)
NO MIRRORS according to the rules