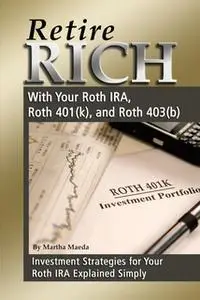 «Retire Rich With Your Roth IRA, Roth 401(k), and Roth 403(b) Investment Strategies for Your Roth IRA Explained Simply» by Martha Maeda
English | ISBN: 9781601386861 | EPUB | 1.9 MB
When the Roth IRA was introduced in the 1990s it was widely hailed as a great way for individuals to increase their retirement holdings by paying the taxes before the money was invested into their IRA accounts. In 2006, the Roth IRA was made permanent by the Pension Protection Plan along with the increased contribution limits. Today, the Roth family of retirement options is a great way for anyone to start putting away money for their future without worrying about paying taxes on their money more than once. However, for your Roth IRA or Roth 401(k) to effectively grow and provide for you when you reach retirement, you need to understand how to manage your investments and fully take advantage of this popular method of saving.
This book is written for the everyday investor who already has a Roth IRA and desires more knowledge or for the individual seriously considering a Roth account. Those who want to put away money so they can retire with enough to be well protected and prepared for anything will benefit from the extensive research on these investments and the helpful case studies distributed throughout the book. You will learn why the federal government enacted the new Roth rules in the mid-1990s, what your different Roth options are and all the ways you can invest the moneyâe"from stocks and real estate to bonds and mutual funds. You will learn the fundamental basics of investing in an IRA and how to start making investment choices, from researching companies and funds to settling into a long term investm ent. You will learn how to maintain a positive working relationship with your administrator and what you will need to do to make your tax payments to the IRS.
Top financial experts who specialize in Roth IRAs have been consulted and their expertise compiled here to provide you with the necessary information you need to learn how to effectively invest in your retirement accounts. You will learn how to put limits on your investments and to manage your risk effectively from now until you retire as well as how to stretch your accounts as needed. You will learn the ins and outs of researching and choosing mutual funds and why your decisions now do not mean everything for the rest of your life but should still be made carefully. If you are 21 or 65, this book can help you maximize the results of your Roth accounts and teach you tricks and tips to getting the most out of your investment.