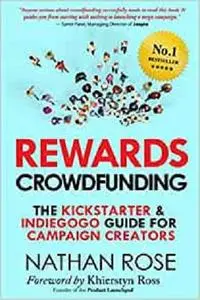 Rewards Crowdfunding: The Kickstarter & Indiegogo Guide For Campaign Creators (Alternative Finance Series) by Stonepine Publishing
English | April 21, 2020 | ISBN: 0473509555 | 211 pages | EPUB | 1.62 Mb
Launch The Next Big Thing With The Crowd!
⭐⭐⭐⭐⭐
Rewards crowdfunding sites such as Kickstarter and Indiegogo can help bring your idea to life.
For product launches - creators can validate their idea, build an audience, and raise the cash to make it happen - all at the same time!
Rewards crowdfunding is an alternative to trying to get money from banks, or opening a physical retail store. You can raise money on your own terms, via the Internet…
…and by creating something new, creative, and clever, your can gain the satisfaction of seeing your dreams manifest into reality.
This Is The Ultimate Playbook For Crowdfunding Creators.
The genius of crowdfunding is: it reverses the order of product design.
It starts with the creator finding an interested audience for their idea. Then, you ask for input at multiple stages to ensure the product is built the right way.
This book takes a different approach to the "growth hacking" manuals you may have seen.
Instead of sharing ways to generate a short-lived spike of visibility, it will be focused on helping you create something authentically great, by staying connected to the audience every step of the way.
This Book Will Show You How.
Rewards crowdfunding offers amazing potential for creators, but it is also a very steep learning curve. Many creators start out with no idea how to build a crowd, craft their pitch, or what to do to drive visitors to their offer page and get them to become backers.
In this step-by-step guide, you will learn:
✅ What rewards crowdfunding is, and how it works
✅ Whether it is the best option for you and your project
✅ How to use co-creation and user testing to design a great product
✅ Proven digital marketing strategies to build a large, passionate fan base
✅ The different crowdfunding platform options (Kickstarter vs. Indiegogo vs. others)
✅ Campaign page setup for maximum effectiveness
✅ How to execute strongly while the campaign is live
✅ Everything to do once the campaign is over
The World's Most Comprehensive Resource
This book contains the strategies from two dozen real campaign creators.
They have used rewards crowdfunding to (collectively) raise tens of millions of dollars, and they share exactly what they did - what worked, and what didn't work - so that you can replicate their success and avoid the pitfalls.
The book also features advice from the world's leading crowdfunding experts, including Khierstyn Ross (The Product Launchpad), Leigh Lepore (mintr), Anthony de Souza (Crowdfunding Mastery Academy), Daniel Mascarenhas (Back The Future), Steven Fox (BackerClub), Mark Pecota (LaunchBoom), Simon Douw (downsideup), Mark Thimmig (The Ignite Agency), Adam Laurie (Wow Your Crowd), Will Dooley (CrowdReach), and Zach Smith (Funded Today) and Roy Morejon (Enventys Partners).
Feel Free to contact me for book requests, informations or feedbacks.
Without You And Your Support We Can't Continue
Thanks For Buying Premium From My Links For Support