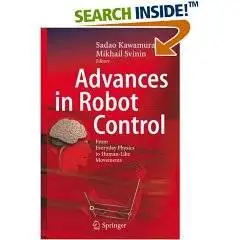 Sadao Kawamura, Mikhail Svinin, "Advances in Robot Control: From Everyday Physics to Human-Like Movements"
Springer; 1 edition (November 14, 2006) | ISBN: 3540373462 | 341 pages | PDF | 7,4 Mb
This self-contained volume surveys three decades of modern robot control theory and at the same time describes how the work of Suguru Arimoto shaped and influenced its development. Twelve survey articles written by leading experts in the field, who have also been closely associated with Suguru Arimoto at various stages in his career, treat the subject cohesively and in depth. This volume will provide an important reference for graduate students and researchers,as well as for mathematicians, engineers and scientists whose work involves concepts and the language of robot control theory.