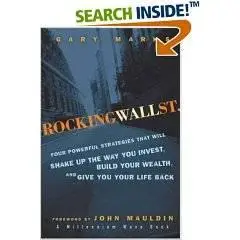 Gary Marks, John F. Mauldin, "Rocking Wall Street: Four Powerful Strategies That will Shake Up the Way You Invest, Build Your Wealth And Give You Your Life Back"
Wiley (February 2, 2007) | ISBN: 0470124873 | 224 pages | PDF | 2,3 Mb
". . . the only four investment strategies you will ever need. . . I dare anyone to read this book and not wake up to the realities of Wall Street, and change their investing habits on the spot."
—Steve Trager Watson Retired CEO and CIO of the hedge fund Watson Investment Partners, LP
"A true Renaissance man and teacher, Gary Marks adeptly explores four investment strategies that can achieve strong results and peace of mind-two concepts usually considered mutually exclusive in the world of Wall Street investing. Using his vast experience and folksy storytelling, Gary provides lessons, anecdotes, and strategies that will help readers find multiple levels of success."
—Mitch Levine Founder and CEO, Enable Capital Management
"Rocking Wall Street brings a musician's heart and soul to the investment process, balancing strategic investing with 'living your life.' Marks's creative approach is sure to strike a major chord with both new and seasoned investors."
—Kerry Paul Altman, PhD Clinical Psychologist
"Rocking Wall Street tips the scales over to the side of the investor and away from the hype masters and media 'experts,' whose lures and promises all seem to vanish in a bear market."
—Michael J. Sell Former auditor, CPA, Investment Consultant