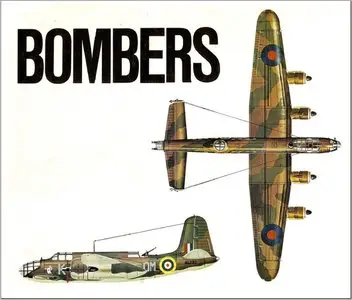 Royal Air Force Bomber Command and Its Aircraft: v.1:1936-40 By James Goulding, Philip John Richard Moyes
Publisher: Benham and Company 1968 | 65 Pages | ISBN: 071100627X | PDF | 51 MB
At no time has the interest in aircraft of World War Two been as great as it is today. Already many books have been published in this country on the main combat planes of the period, Allied and Enemy alike, and scale-model aircraft kits are equally numerous. Yet the enthusiasts everywhere seem to be demanding more information on this absorbing subject every day. It is in an attempt to meet these two present-day requirements that this series of books, Men and Machines, is being produced, the present volume being the first of three which will collectively cover all the R.A.F. bomber aircraft of World War Two. Other volumes will deal with R.A.F. fighters of the same period and also the wartime aircraft of the other major powers. Much of the information in this series is completely new, and all of it-whether it be narrative or artwork-is fully authenticated. This first volume describes five separate types of aircraft, ranging from the single-engined Fairey Battle, illstarred campaigner with the Advanced Air Striking Force in France in 1940, to the mighty four-engined Lancaster, 'Bomber' Harris's chief instrument of victory in the awesome night bombing offensive which helped bring Hitler's vaunted 'l,OOO-year Reich' to its knees.
NO PASSWORD


!!!No Mirrors below, please! Follow Rules!